Swan-Upmanship
Old Swan Band
Wild Goose WGS 320 CD 2004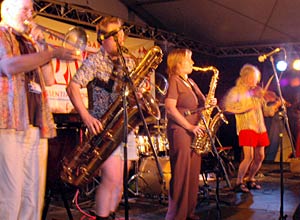 The Old Swan Band are John Adams - trombone, fiddle;
Martin Brinsford - percussion; Paul Burgess - fiddle;
Fi Fraser - fiddle; Jo Freya - Tenor Saxophone, whistle; Neil Gledhill - bass saxophone; Flos Headford - fiddle; Heather Horsley - keyboard.
In 1995, I concluded my sleeve notes to the Old Swan Band's compilation CD Still Swanning … by saying 'The Old Swan Band was the leader of the pack'. Ten years later, with the issue of their new CD, I see no reason to change my opinion. To the CD's sub-title 'Memorable Tunes with Sensible Titles' should be added 'Played Properly', for this is an object lesson in how to play English dance music. True, there are tunes here from Ireland, Australia, Sweden and America as well as from England, but, as you should well know, it's the way you play 'em.
An immensely enjoyable album is of a working dance band with a well-played-in repertoire who enjoy what they are doing and do it well. This is no CD that could be used in place of a band - hardly any of the tracks are dance length and often we only get twice through each tune. It doesn't matter - this is a studio version of the Old Swan Band's current repertoire and a clear example of 'what you hear is what you get'. This is a great dance band, all the tunes are memorable and they have all got sensible titles. One final word of praise for the percussion work of Martin Brinsford - spot on every time, and each track different. Wonderful!
From an article and review by Dan Quinn in
Musical Traditions:The Internet Music Magazine.
dated 18 August 2005